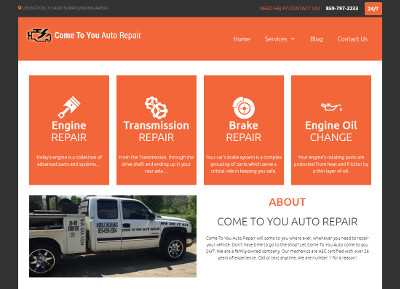 Robert, the owner of Come To You Auto Repair, was referred to us by another customer. Robert had a website for his business a year or more ago but it got lost and wasn't renewed.
He needed to get a website presence back online and so he enlisted us to help him.
We found a partial copy of his prior website so we made the new site to be very similar to the old one – with some changes and modifications.
It took a few days to complete and then we were asked to create a few more pages on the site – which was done the same day the info for those pages was received.
Robert's website is back online and we appreciate the opportunity to assist with his request!
The Come To You Auto Repair website is at cometoyouautorepairs.com.