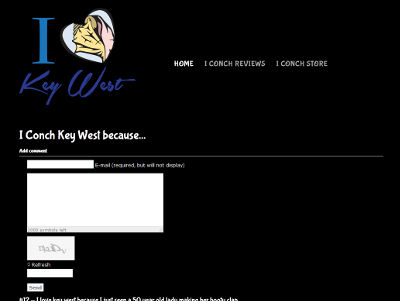 BsnTech Networks was contacted by Zachary several weeks ago in order to create a personal website.
He already had a domain name, but decided to get a new domain name for this purpose. What was his website idea? To solicit comments from website visitors about their experience in Key West, FL.
The home page is extremely basic and it makes the point clear. Simply submit your comment and once approved, it will be added right to the home page for everyone to see!
In addition, Zachary wanted an outlet so that he could add reviews to local businesses on his website and showcase them. Therefore, a blog was setup for his "I Conch Reviews" page for that purpose.
Later on, he plans to add eCommerce capabilities to sell memorabilia and other Key West souvenirs.
We appreciate the business from Zachary and look forward to setting up the eCommerce portion of the website when he is ready!
Zachary's website is at conchlove.com.