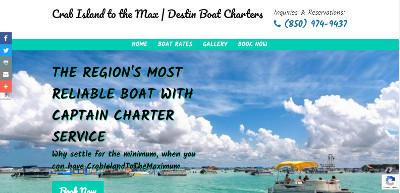 Max, the owner of Crab Island to the Max, contacted us back in August asking about our website services. We discussed the requirements with him to have a website along with the appropriate costs.
Not far from Destin FL is Pensacola FL and we created a "mock-up" website for another one of our customers that does boat charter services in Pensacola to help spruce their site up. The customer opted to continue with their current website instead of making the transition to the new site. However, we showed this site to Max and he was impressed with the site and was leaning to having a site similar.
Several months passed and Max just contacted again last month indicating he had tried making his own website with another competitor's website builder but wasn't satisfied with the results. Therefore, he asked us to create a site with the same material that he made – but make it look better.
Within one day, we sourced some pictures and formatted his website similar to the mock-up site we created for the other customer, although Max didn't want all of the features and just wanted something similar for now.
The site is now online and ready for inquiries and business!
Check out crabislandtothemax.com!