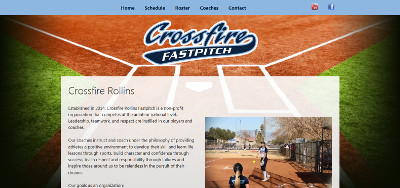 Chris reached out to us a few weeks ago asking about our website design services. Initially, he preferred to work with someone local to his area in Boise, ID. However, after speaking with us over the phone and seeing how well we work with our customers and our response rate, he decided to go ahead and have us assist with creating the website.
Chris provided us a shared folder with the information and pictures he wanted on the website. After about a week, the website was completed and approved!
The website includes several features including a few extra web pages, a homepage slideshow, a basic contact form, and mobile device compatibility.
Crossfire Rollins website is at crossfirefastpitch.org.