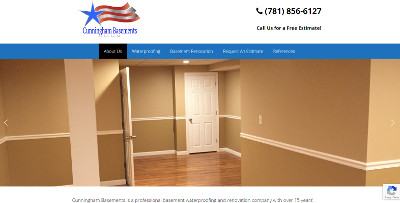 Darryl contacted us last week and inquired about getting a few new websites created for additional businesses he has.
Several years ago, he had us create a website for his power washing business (Cunningham Power Washing).
The additional websites – he requested to have the same setup as the power washing website.
Over this past weekend, we began working on the Cunningham Basements website. In this business, he specializes in basement waterproofing and renovation services for all of the New England states.
The website has five pages, a homepage slideshow, a contact form, and it is mobile friendly. Today, he has approved the website and we'll start on the next site soon!
The address for Cunningham Basements is at cunninghambasements.com.