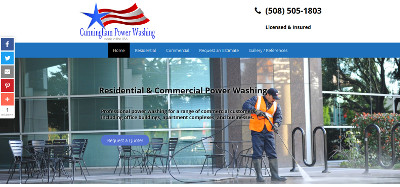 Darryl, the owner of Cunningham Power Washing, emailed us several weeks ago about our web design service. Darryl had a specific budget in mind for the site and we were able to meet the site and actually exceed it.
When we initially started, he sent us the Word document of everything he wanted on the site and followed up with his logo. After the work was done, we had two fewer pages than he initially thought so that saved him cost and allowed him to get another feature and still stay under his budget.
In the end, Darryl has a five page website with a homepage slideshow, a basic contact form, social networking integration, hover over menu navigation, mobile compatibility, and a picture gallery.
The website is at cunninghampowerwashing.com.