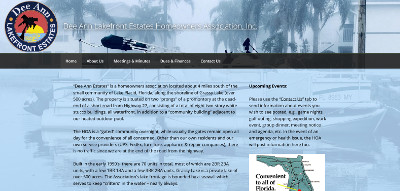 Robert, a board member of Dee Ann Lakefront Estates HOA, Inc – reached out to us at the beginning of October asking about our website design services. The homeowner's association he belongs to did not have a good way to disseminate information and events to the community and so he took on the project of having a website created for it.
We've created a few other HOA websites in the past including one for Heritage Pines in Bradenton, FL. We used that website as an example for Robert and he requested that their site look similar.
Bob began sending over the needed materials for the website on the 15th of November after getting caught up with his other work. That same day, we had the majority of the website designed and completed. Over the past few days, some additional changes were received and completed.
The website is now done and will serve as an information portal for association members.
Their site is at deeannhoa.com.