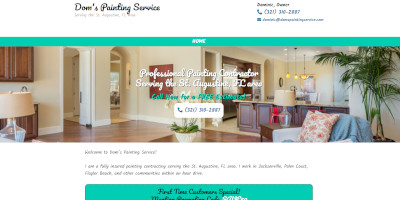 Dominic emailed us at the beginning of last week inquiring about our website design services. The next day after he received our introductory email, he called and spoke with us about his needs.
Dominic has been a professional painter for over 20 years and relocated to the St. Augustine, FL area. He needed help to get started in the area.
After speaking with Dominic a few times, we finalized his needs with the lowest costs possible to get started. We created a simple one-page website for him with a domain name and three months of web hosting, which was completed last Thursday. We also began a Google Ads campaign for him on Friday.
We are watching the ad campaign and continuing to optimize it for the best performance.
The website for Dom's Painting Service is at domspaintingservice.com.