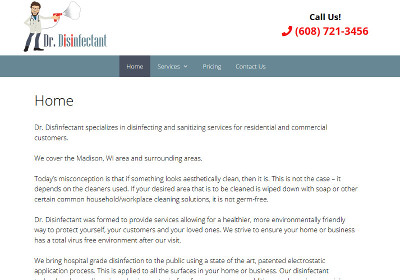 Mike, the owner of Dr. Disinfectant, initially contacted us back in April asking about our services. He placed an order for a website along with a logo design.
The logo was completed many months ago, but he ran into some issues with insurance providers and covering his business. Therefore, it put a delay on the website.
Mike began supplying us information to start on the website at the end of July and we pieced together the info and pictures he sent us. He originally was looking to have a more expansive site but opted to pair back on his requirements after we started on it.
His website has six pages, a basic contact form, social networking integration, hover-over and drop down menu navigation, along with mobile compatibility.
The site is now launched and Mike is open for business!
The Dr. Disinfectant site is at thedrdisinfectant.com.