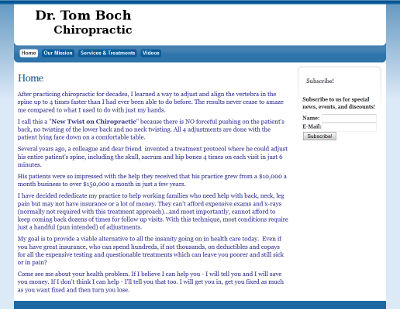 Dr. Tom Boch contacted us last week in regards to getting a very basic website setup for his chiropractic practice.
Tom provided us the material that he wanted on the site and gave us a color scheme. He also referenced his son's website – since he was in the business. When we looked at his son's website, there wasn't any kind of styling to it – was just a site with links across the top, a few pictures, and some text.
We created a website for Tom that has minimal functionality – but also is clear and concise that was within his initial startup budget.
Thank you for the opportunity to create an affordable website design for your chiropractic practice, Tom!
His website is at drtomboch.com.