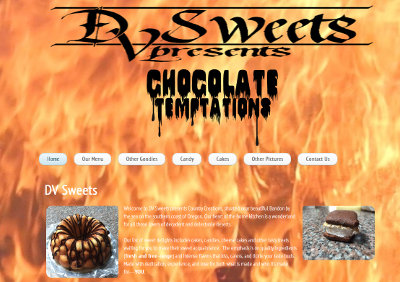 Cheri, a current customer of BsnTech Networks, contacted us several months ago to have us setup a new website for her other business – Country Creations / DV Sweets.
Cheri has an artistic hand and creative touch when it comes to creating confections including chocolates, cakes, candies, and more.  Therefore, she wanted to have a website created that would showcase some of her work and also advertise her available services.
Cheri sent us over the background image that she wanted for her website along with all of the pictures.  Over the course of several months, we worked on the website a little bit at a time.  Cheri has a very busy schedule with delivering puppies to new homes and also breeding – so she wasn't able to sit down and fully provide us everything in one shot.  However, anytime that she sent us requests or changes, we took are of them very quickly.
We appreciate the continued business from Cheri, and it definitely shows that our service to our customers is top priority with the return of many customers for additional services.
The DV Sweets website is at dvsweets.com.