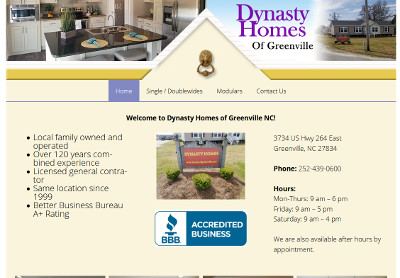 Charles, the owner of Dynasty Homes of Greenville NC, contacted us a few weeks ago. He was wanting to have his website updated with the ability for them to manage it going forward.
We proposed a quote to Charles to re-design the website and add all of the manufactured homes they already had on the website. Once he received the quote, he was ready to go and got us started right away.
He also chose to have us host the website and manage his domain name. His current provider's cost was more than our rates and he wanted to have one contact for all of his website needs.
Today, we spoke with Charles over the phone to complete some of the final requested changes and the site is now live!
We appreciate the business from Charles and look forward to a great business relationship.
The website for Dynasty Homes of Greenville NC is at dynastyofgreenville.com.