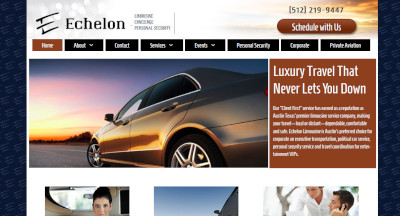 Clay, the owner of Echelon Limo, reached out to us requesting quick help with his website. He was experiencing some large issues with his website – where someone could search for them in the search engines but when the website link was clicked, the page would not come up.
There appeared to be some setting or issue occurring with the website that was created that caused search engine referrals / redirects from showing the site up properly.
Clay wanted to have the website rebuilt in WordPress since he had heard about it – and how easy it was to update or make changes to it themselves. With the other website, he had no ability to update it.
Clay placed his order the same day to get started. We worked quickly to rebuild the 17+ page website and had it done within a few days. They reviewed the site with us on the phone and we corrected and updated a few items. Today, the website has now been finalized and launched! The problem with the search engine referrals has also been resolved so the website properly displays when their business is searched.
Clay was very pleased with the service offered and the fast turn-around time. He mentioned potentially changing over to us for website hosting in the future as well.
The Echelon Limo website is at echelonlimo.com.