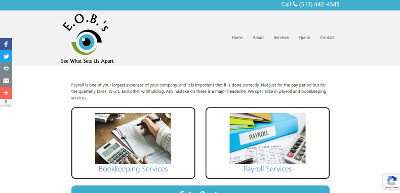 Greg of West Chester OH reached out to us a few weeks ago. He needed a website created for his new business venture – Electronic Office Billing Systems. He specializes in payroll and bookkeeping services for businesses.
Greg needed a simple site created with a few additional features. The extra features included mobile device compatibility, social networking integration, two contact forms, and two extra web pages.
We went through a complete re-design of his site once he discovered one of his providers required that the site look uniform to their other sites. This was done quickly and the site was just approved today!
Electronic Office Billing Systems' website is at eobsbk.com.