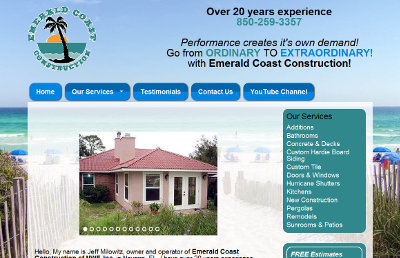 Jeff, the owner of Emerald Coast Construction, has been a long time customer of BsnTech Networks – since early 2012.
Jeff contacted us late last week and said that his website with GoDaddy had been compromised.  Unfortunately, someone found out what his password was and completely deleted his entire website that we made for him several years ago and put up hundreds of pages of advertisements instead.  Because of that, all of the work we previously did was lost.
However, BsnTech Networks was able to find another solution and managed to find a backup/copy of his website!
Jeff opted to go ahead and have us manage his website hosting and his two domain names moving forward.  While we are a bit more expensive than GoDaddy, we provide automatic rolling seven day backups on hosting accounts and also provide mirrored/redundant web hosting.  If there were backups of the website in place, Jeff would not have had the expense of re-creating the website.
We then re-made the website using the same information and pictures on the previous site.  However, the website did receive a facelift as well.
Jeff sent a few extra pictures to include in the website – and then it was completed!
We appreciate the continued business from Jeff.
The Emerald Coast Construction website is at emeraldcoastconstruction.com.