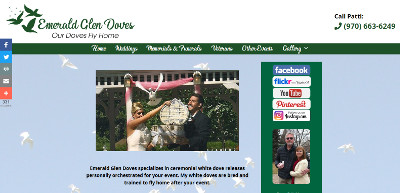 Patti, the owner of Emerald Glen Doves, reached out to us a few weeks ago. Initially, she wanted to have a new logo made for her dove release business in Colorado.
After we exceeded her expectations with the logo design, she wanted us to help with a new website as well. She was using a different hosting provider and didn't know how to update or make changes to her existing site. Her hosting term with them ended February 11th.
On February 1st – after the logo was done, she asked us to work to get the site done and let us know of the deadline. She was concerned whether or not that would give us enough time to get the site completed before the site was shut off.
We had Patti covered right away! February 1st was a Friday. By Monday the 4th, we already had all of the contents of her old website built into a new site with a newer, more modern look.
A few changes were made to the site with removal of some links to partners and adding an Instagram link, but the site was done and approved today!
We appreciate the business that Patti provided us – both for logo work and website design services.
Emerald Glen Doves website is at emeraldglendoves.com.