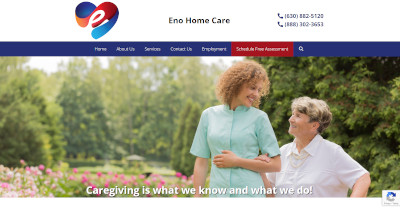 Nick contacted us back in February looking to get information for website design services. Him & his wife were starting a home health business called Eno Home Care.
To start, we secured a few domain names for him. In May, he was ready to begin starting on the site. Over the past few months, we've perfected the website to their expectations and it was just finished a few weeks ago!
The website has six pages, it is mobile device friendly, and there are two contact forms that were setup.
Eno Home Health can be found at enocares.com.