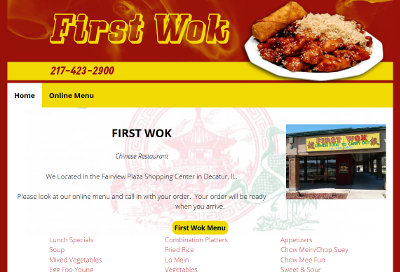 The owner of BsnTech, Brian, frequently visits a local Chinese restaurant close by home – First Wok. One night while picking up an order, Brian spoke to the owner about getting a website to put their menu online – and possibly to do online ordering.
A few months later, the owner of First Wok called and said he wanted to get started with a site to simply list their menu online – but may be interested in online ordering down the road.
Once the initial pre-payment was received, BsnTech worked quickly to get a site setup for First Wok of Decatur.  The website was set to be mobile-friendly so the menu can easily be viewed on any device.
The website has been completed and was just approved today!
We appreciate the business from First Wok and hope to help with online ordering capabilities in the future!
The First Wok website is at firstwokdecatur.com.