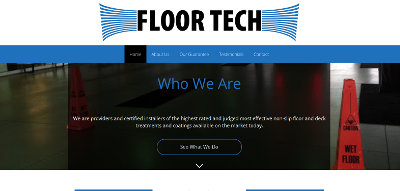 Tom, the owner of FloorTech, LLC – contacted us a few months back to have a website created.
Tom is part of a franchise program for a service company that provides non-slip floor solutions for large companies.  Especially in the business sectors that cater to customers, wet floors cause customer liabilities with slipping and falling.
Therefore, Tom wanted to get into the business of providing a floor solution that can be applied to floors to increase friction and help reduce slips, falls, and lawsuits.
We got to work on Tom's website as soon as he sent over the initial information that he wanted on the site.  Through some coaching and consulting, we geared Tom to providing us some better quality material for the site to make it on-point and to focus on three primary targets for his home page.
During this time, our graphic designer also completed a logo as well.
Today, Tom made a few final changes to the website – and we have launched his website for business!
We appreciate Tom's business and persistence with getting us the text content for his website.
The site for FloorTech, LLC is nonslipfloorsolutions.net.