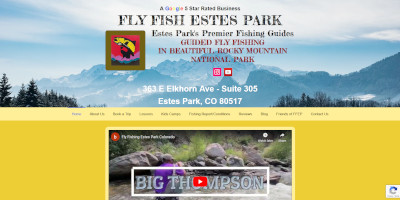 Jim, the owner of Fly Fish Estes Park, is a fly fishing guide service in Estes Park, CO which is around Rocky Mountain National Park.
He contacted us in mid June asking for some help with his website. The site he made on his own was very well done but it was made in the WIX platform. He was looking to have something that was a little easier to edit/update and have a few additional features added to the site, like the ability to have a blog.
In mid-July, he was ready to start on the website overhaul. We began on the website and worked to create the site very similar to his existing site. Through through the process, we made some sections of the site look better and easier to read along with adding his changes in along the way.
Today, we had a final phone call to go over the last changes on the site. The Fly Fish Estes Park website has ten pages, it is mobile friendly, has a website blog, a basic contact form, hover over menu navigation, and social networking integration.
We appreciate being given the opportunity to serve Jim and his website design needs!
The site is at flyfishestespark.com.