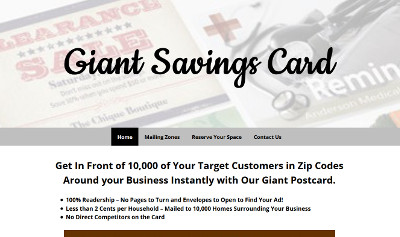 Bruce emailed us and needed a fast turn-around on a new business venture – Giant Savings Card. He wanted to get a simple site created that was low budget since he is not sure whether the business will take off yet. He plans to offer oversized postcard advertisements in two markets and potentially expand to other markets if successful.
Bruce emailed us the material he wanted on each of the websites quickly. Upon making the initial payment, we had the website mostly completed within 24 hours. We created the homepage first and made changes to it the same day and finished the other pages on the same day.
The website has been approved and Bruce has the ability to update and make changes to his website as needed.
The website for Giant Savings Card is at giantsavingscard.com.