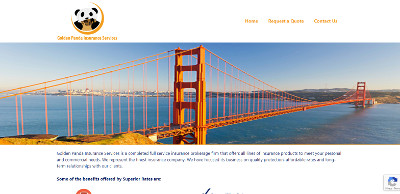 After successfully meeting Peter's expectations for his logo design request, he emailed us to get an itemized estimate to start a website for Golden Panda Insurance Services.
Peter noted that he wanted a basic website with three pages, a contact form, mobile device compatibility, and a picture gallery.
A few days later, we received the information that Peter wanted on the website. After looking at the document sent, we discovered that he needed two contact forms – a simple form on the contact page and another form for a quote request. There wasn't a need for the picture gallery, so we were able to save him money over the original website design estimate we supplied.
Within 48 hours, the website was mostly completed. A few changes were made over the past few days and the site was just approved and went live yesterday!
We appreciate the additional business from Peter and the trust he placed in us for both website and logo design work.
The Golden Panda Insurance Services website is at goldenpandainsurance.com.