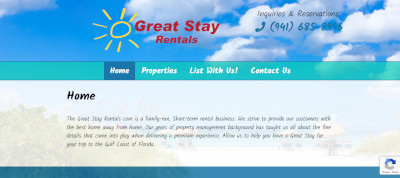 Mark, the owner of Great Stay Rentals out of Sarasota, FL, reached out to us in June wanting to get a simple website put together for his vacation rental management company.
Mark provided us an example website that he liked and wanted to get a cost estimate based on it. We supplied the cost estimate and he was ready to get started with the site the same day.
Over the first couple of days, Mark supplied the content for the website. We chose beach colors that are generally used in the vacation rental and tourism industry for Florida and the area that Mark is targeting.
After Mark was able to get us the list of locations he already manages, we added those to the appropriate page of the site along with a direct link to the AirBnB listing and a range of photos for each property.
The website is now published and is open for visitors! Mark has indicated that as the business grows, he will have the site expanded on and may change to having a separate page for each listing so more detail can be provided.
The website for Great Stay Rentals is at thegreatstayrentals.com.