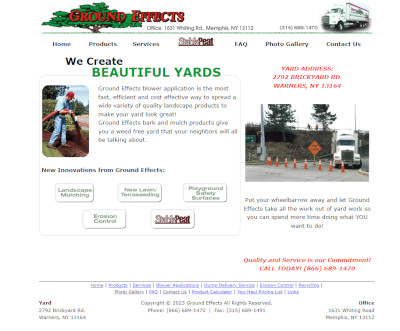 Clifford, the owner of Ground Effects in Memphis, NY – contacted us back in mid-December. He had a website for his business already, but needed help to update it and make it mobile friendly.
After a few weeks, Clifford wanted to proceed with the website proposal. We started by creating the homepage for his website to ensure we able to create the website properly. We were successful with the example and proceeded to complete the rest of the other 40 pages of the site.
Overall, the website is now mobile device friendly and includes two contact forms, hover over / drop down menu navigation, a picture gallery system, a homepage slideshow, and 41 total pages.
Today, we have finalized the website and it is live!
The site for Ground Effects is at groundeffectsny.com.