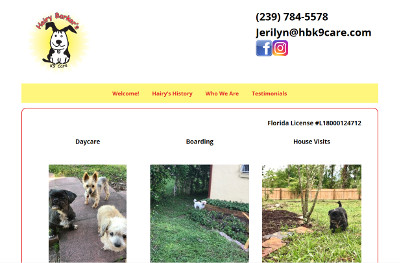 Jerilyn emailed us in need of modifying her logo a few weeks ago. She recently moved from one market to Florida and opened her dog care service. We modified the logo for her very promptly – within an hour of the initial payment.
Jerilyn was so impressed by the level of service we provided her that she asked us to also make her website. She already had all of the pictures, text, and the layout that she wanted on the website – but just needed someone to put it together.
We delivered for her yet again! Within two days of getting technical issues straightened out with her hosting provider, the website was done and completed!
Hairy Barker's K9 Care website is at hbk9care.com.