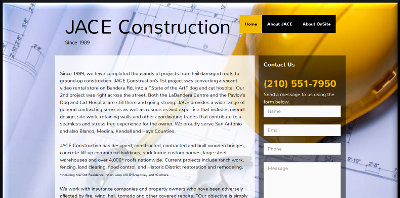 BsnTech Networks was contacted by John, the owner of JACE Construction, to build a website for his business.
Originally, he attempted to make a website through VistaPrint, but they were going to charge him a large amount each month to even have a very simple website with them.
So, he contacted us for help.  Upon receiving the info he wanted on the website, we had it up and running for him within just a couple of days.  About a week later, he sent a few updates that he wanted to have done on the site, which we did at no extra cost.
John's website is now up and running!
The JACE Construction website is at jace-construction.com.