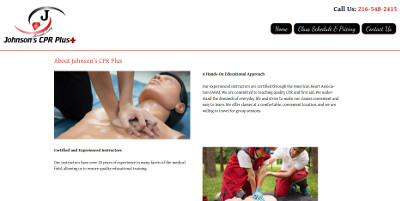 In a prior post, we spoke about a logo design that we were completing for Christi at Johnson's CPR Plus. Shortly after the logo was completed, the website was also just completed. Christi provided us the information very quickly for the material she wanted on her site. We had the site most done within 48 hours of the information being received. Over the course of a few days, we made other final adjustments and modifications to the website while awaiting the logo. Once the logo was done, it was added to the site and Christi said everything looked great!
Her website is a basic three page site with a basic contact form and PayPal integration.
The website for Johnson's CPR Plus is at johnsonscprplus.com.