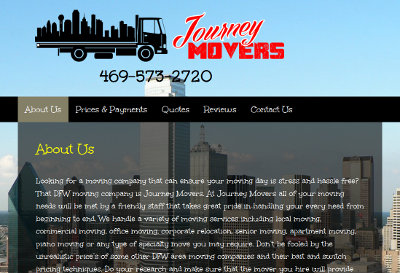 John, a recurring customer of BsnTech Networks, started a new company – Journey Movers.  Therefore, he needed to have a website created for his business – and a logo.  The logo was completed a few days ago, but the website was just done today!
John needed a fairly simple website – but he did need a few extra pages, mobile device compatibility, a few contact forms, and PayPal Integration.
Working with John, we went through several changes and updates to meet his expectations – but still had the site done within a week's period of time.
Today, the website was just launched and he is ready to start moving people in the Dallas / Fort Worth areas!
Thank you for the additional business, John, and it shows that we are meeting the expectations of our current customers.
The Journey Movers website is at journeymovers.com.