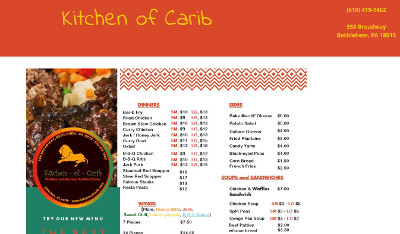 Otha, the owner of Kitchen of Carib located in Bethlehem, PA, called us a few months ago. He simply needed a website that displayed his menu so customers could look at the menu and place phone orders for pickup.
To start, he wanted to get his domain name secured to get business cards, his menu, and other marketing materials printed. About six weeks later, he called us and said he was ready to start on the site. A copy of his menu was sent over along with a few pictures of his food that were placed on the site.
We got this information incorporated on the site the same day that he sent it.
His basic website is now completed with his menu and contact information to make call-in orders.
The website for Kitchen of Carib is at kitchenofcarib.com.