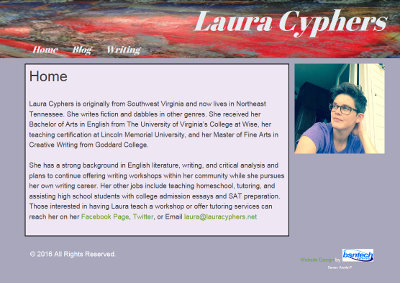 Shawn, a continuing customer of BsnTech Networks, sent us another referral. Shawn owns and operates a computer repair shop and said that he has many customers come in and ask about website design services. He hasn't had anyone to refer to – until he found us. He has continued to be very pleased with the responsiveness and the pricing of our services that he has referred a few customers to BsnTech.
Laura is a new customer that was just referred to us. Laura is a published writer and wanted to get a simple website started with biography information and a blog to post her thoughts and ideas. Laura was instrumental during the process and fully provided us the exact layout that she wanted her website, the colors, the background pictures – everything.
Because of this, we had her website done in just a few hours. She placed her order yesterday morning and by the afternoon, the website was completed and published.
Laura noted that she was also exceptionally pleased with our pricing and how professional we are to work with. She noted in an e-mail "I'm very impressed and will spread the word about your company. Thanks again".
We appreciate the continued trust from Shawn and him referring website design customers to us – and appreciate the kind words and additional business from Laura.
Laura's website is at lauracyphers.net.