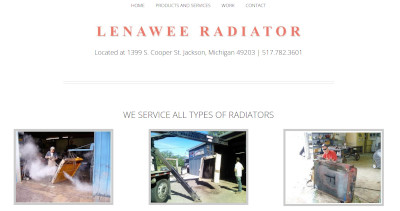 Ron, the owner of Lenawee Radiator in Jackson, MI – contacted us asking for some help. He had a website but had no access to the website to make changes. He wanted to make his website mobile compatible but had no idea where the site was stored at.
We looked up the information on the domain name and found the domain name was at Network Solutions and led him in the direction of getting access to his domain name.
After having a phone call with Ron, we logged into the Network Solutions account and there wasn't any website hosting – so the website was elsewhere and we were not able to find out where.
Therefore, the project moved forward with having us host the website and we re-created his existing site, added mobile device compatibility, and changed a picture.
The website is up and running and we are now working to get an advertising campaign setup for him!
The website for Lenawee Radiator is at lenaweeradiator.com.