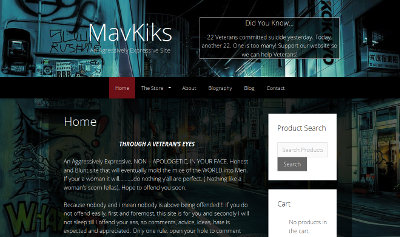 Marco contacted us a few weeks back to have a website created for him. Marco is a disabled Marine Corps veteran that has PTSD after serving in the armed forces. He wanted to create a website to potentially help others with PTSD through the sale of his one-of-a-kind items.
Marco said that he has received a lot of positive praise for his creations – whether they be shoe modifications and designs or even motorcycle customizations. Because of that feedback, he wanted to be able to branch out and create an online store to sell those items.
We got started on the site right away and began to add all of the information to the site as it was being sent to us.
At this point, we have turned over the website to Marco for management and to add items to his website.
Thank you for your business with the creation of a website for you, Marco!
The MavKiks website is at mavkiks.com.