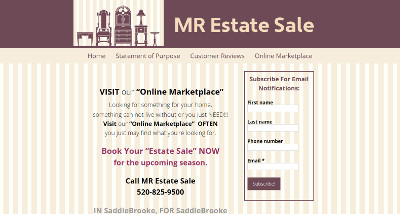 Michael reached out to us by phone and was looking for help with their business, MR Estate Sale in SaddleBrook AZ.
The primary need was help with email marketing. They knew of another website that BsnTech helped to create for another business that sent out newsletters and needed to have the same functionality. They tried a few of the other newsletter service providers but they were expensive and were a hassle for Michael to work with.
Therefore, he requested some help from us to make it possible.
During conversations, we spoke about the various features available on the website. Michael initially just wanted a simple site where they could allow for newsletter sign-ups, a listing of upcoming sales, and a place to post photos of the items in the upcoming sales.
A few days into the design, Michael asked us about the possibility of making an online catalog for their clients that only had a few items (or only one) to sell and didn't warrant a full estate sale. We explained what we could do and we setup the Online Marketplace for them.
Michael is very pleased with the results obtained through us and the ease of using the newsletter system.
The MR Estate Sale website is at mrestatesale.com.