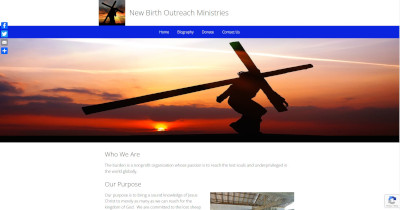 Michael runs a non-profit organization – New Birth Outreach Ministries. He got in contact with us in mid-August by first calling us. We spoke with Mike about the plans for his website and followed by with an itemized estimate by email.
At the end of August, he was ready to start with the website. We setup the hosting and domain name and began to receive the information from him that would be included on the site.
The site is a pretty simple page – with the sole purpose of explaining his outreach and help to get donations to support the aid and education to citizens in poor countries that have been forgotten.
The New Birth Outreach Ministries site can be looked up at theburden23glm.com.