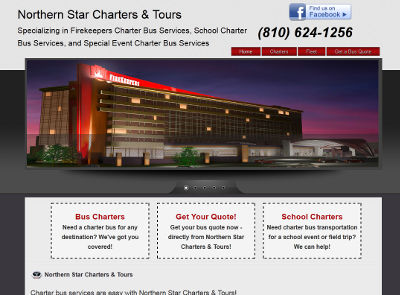 Toni, a current customer of BsnTech Networks, has been very happy with the services that we have provided to her over the past few years. Therefore, she referred one of her good friends, James to us.
James is the owner of Northern Start Charters and Tours in Flint, MI. We worked with James to find out what his needs were in regards to getting an online presence.
In the end, he decided on a feature-rich website that included a contact form, social networking integration, a slideshow, and a few others. He also has us managing his website hosting and domain name as well.
We worked with James over the course of a week to ensure the website provided the right information to potential customers – and we have just published his site to make it live!
We appreciate the referral from Toni and the ability to serve James with his website service request.
Northern Star Charters and Tours can be found at firekeeperscharterbus.com.