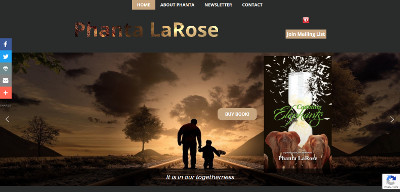 Melanie, who goes by the pen name of Phanta LaRose, contacted us in hopes of getting a website created.
We discussed the details of what was needed and got to work right away on the site. The website has four pages, social networking integration, a homepage slideshow, it is mobile device compatible, has hover over menu navigation, a basic contact form, and a newsletter system that will allow individuals to subscribe to her newsletter.
Melanie is very happy with our work and says she will be writing a review about our services very soon. She previously contacted us several months ago to have a logo created for her publishing company.
The Phanta LaRose website is at phantalarose.com.