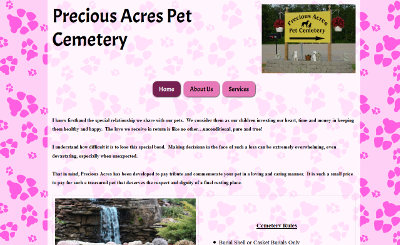 Teresa, the owner of Precious Acres Pet Cemetery in Poplar Bluff, MO, contacted us a few weeks ago about getting a new website design. She was referred to us from another one of our customers, Southeast Signs and Graphics – also based in Poplar Bluff. She said that the owner spoke very highly of us, so she wanted to get her website updated.
Teresa had her website initially with Yahoo Small Business – which sold out the website services to Aabaco Small Business. She wanted to move away from them and go with a reputable business that was responsive and had employees within the United States, not overseas.
We worked with Teresa right away with getting the domain name transferred and establishing website hosting on our mirrored servers. Upon having these setup, her new website was created in just one day! We took the majority of the information from her old website, gave it a much-needed facelift, and incorporated new pictures that she had of her facility.
We appreciate the business from Teresa and look forward to a strong relationship with her!
The Precious Acres Pet Cemetery website is at preciousacrespetcemetery.com.