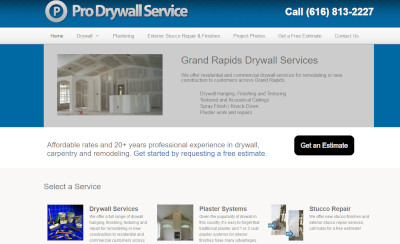 Wayne, the owner of Pro Drywall Service in Grand Rapids, MI emailed us yesterday, February 17th. He indicated that his hosting account lapsed with his provider but he still had his domain name. He needed help getting his website back up.
We had a phone conversation with Wayne and we found out that his website had been deleted. Unfortunately most website hosting providers will immediately delete someone's hosting account and the entire contents if an invoice isn't paid to renew the hosting. Here at BsnTech, we have a different strategy which has helped dozens of customers over the years. In the event a customer doesn't pay their invoice, we do a full backup of the website. Therefore if a customer finds they want to get a website restored, we can quickly do so.
We managed to find a full copy of Wayne's website using the archive.org website. Using that snapshot, we re-created the website very closely to what he had. The work was done in less than a 24 hour period of time and the site is ready to go!
The site for Pro Drywall Service is at prodrywallgrandrapids.com.