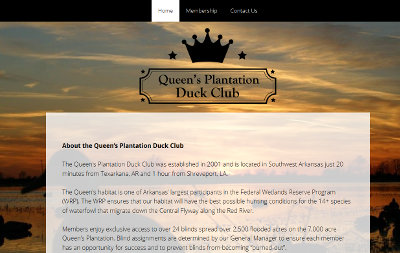 Aaron contacted us about a month ago requesting to have a very simple website created for his duck club. He was blown away with our pricing since he got quotes from other companies – and the lowest cost was over $600.
Therefore, he really thought that we were not a legit company. We then pointed him to the direction of our Facebook and Google reviews along with our portfolio website to see REAL websites that point directly to our active customer websites.
After that, he was convinced and immediately contracted with us for website and logo design.
Upon receiving Aaron's info for the website, we had the website done in less than 48 hours. A few changes and modifications were done. Unfortunately, it did take a while for our graphic designer to get the logo fully finished to Aaron's expectations.
Aaron was originally using the domain name for another purpose – but said he wanted to make the new website live on the 23rd of July. Yesterday, we changed the "DNS servers" on the domain name and his website is now live!
We appreciate the business from Aaron and we are glad that he chose us to help with his website request. In the end, he saved a considerable amount compared to the other web design quotes he received.
The Queen's Plantation Duck Club website is at queensplantation.com.