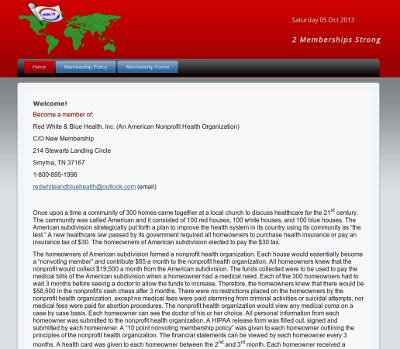 Gary from Red White and Blue Health, Inc. contacted us a few weeks ago for a few projects. He requested that we create a logo for his organization and also create a low-cost website so he could get established online.
Our graphic designer worked to create a logo that Gary was happy with. There were a few mock-up designs sent to Gary and he chose one based on what he liked.
We also were working to get his website designed during that time so we could complete everything quickly for him. He let us know to use a red, white, and black color scheme on the site – so that is exactly what we did!
Gary sent us all the information that he wanted on the site. We were able to combine some of the items to save him the cost of needing another web page as well. Instead, we took two of the files he sent and converted them to PDF files so they were easily downloadable for the website visitors. At BsnTech Networks, we strive to find ways to save cost for our customers – and also make things look more presentable and easier for their website visitors.
We appreciate the business that Gary has provided us and look forward to making a few website modifications as his organization grows.
The Red White and Blue Health, Inc. website is at redwhiteandbluehealth.com.