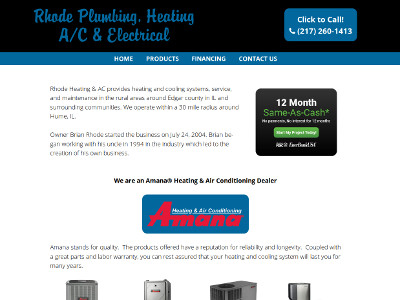 Brian Rhode, the owner of Rhode Heating and AC, was referred to us from one of our partners in the IT industry. He came to us seeking help on getting better placement for his Google Places listing and to get a new website created to reduce his yearly cost of his web hosting services.
The first thing we did was to 'take ownership' of the Google Places listing since it was not already claimed. We worked with Brian to complete the verification process and got his listing fully finished. Upon doing so, his Google Places listing is now coming up at the top of the results in the communities he wanted to target. Before, he was only coming up in his small community – where there wasn't enough work to keep his business going.
After this was completed, we created a simpler website that showcased his products and services. The site included mobile device compatibility and a basic contact form.
A few changes later and the inclusion of Financing buttons from his bank – the site was approved and made public!
We appreciate the business from Brian and look forward to working with him on any other website needs.
Rhode Heating and AC's website is at rhodeheatingandac.com.