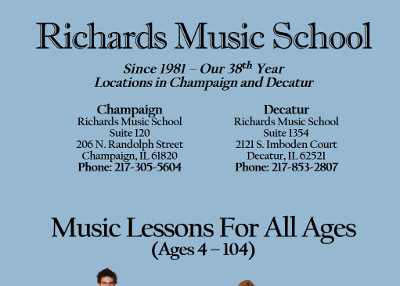 Richard, the owner of Richards Music School located in Decatur IL and Champaign IL, reached out to us last week. He was looking for some help getting a new website created from a local website designer.
We met with Richard initially to discuss his needs. He already had a Word document created with all of the exact formatting and setup that he wanted on the website.
Over the next few days, we worked to create the website to be as close as possible to the Word document that was provided. On Monday, Richard sat down with us and went through some final changes and approved the website.
We also assisted Richard with getting some changes completed on his Google Places listings so he would hopefully rank higher in the search results. He also mentioned wanting to do some pay per click advertising with us as well so we'll be managing a campaign for him.
The website for Richards Music School is at richardsmusicschools.com.