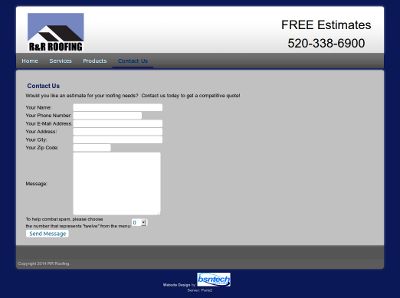 BsnTech Networks has just completed the website for RR Roofing located near Tucson, AZ. Avery contacted us a few weeks back on behalf of his friend – Ralph. Ralph has owned and operated RR Roofing for over 30 years and needed to have a website to help with his online presence for his business.
We assisted by creating a roofing contractor website design for Ralph and Avery. After obtaining the information from them and understanding their needs, we had the site done in just a few days.
After Avery and Ralph had some time to look over the site, they immediately approved it and was ready to launch the site.
Thank you for your business, Avery, and we hope that we will be working on your website next!
RR Roofing's website is at tucsonrrroofing.com.