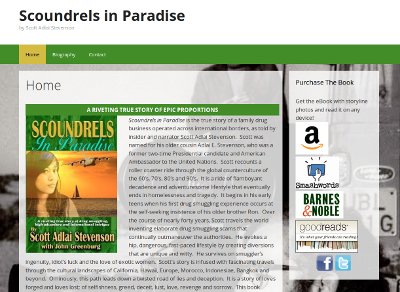 Scott Adlai Stevenson contacted us about a week ago in need of having a website created for a book he wrote, Scoundrels in Paradise.  He wanted to get a website together that helped to showcase his book and provide links to websites that would allow visitors to purchase the book.
He got the information to us over the course of a few days after the payment was made for the site design.  Once we had the information, we began working on the site.  He only needed a simple website with three pages – but also requested to have a contact form and social networking integration so there were ways of getting in contact with him.
Scott approved of the website today and it has now been launched!
The website for his book is at scoundrelsinparadise.com.