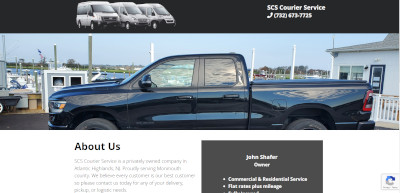 John emailed us needing some help getting a business started – SCS Courier Service. He started a small courier and deliver service in Monmouth County, NJ and needed help with making an online presence.
We explained our pricing to him along with the options we could help with. John sent us a couple of website examples of others doing the same business to get us acquainted with his needs.
Ultimately, John decided to start small after our conversation and we created a simple one page website with a contact form for inquiries. This was just completed and approved today after a few modifications.
Next, we will assist John with doing some advertising in the search engines. This will start later this week and we'll run the campaigns on a month-by-month basis as we do with other customers.
The website for SCS Courier Service is at scscourierservice.com.