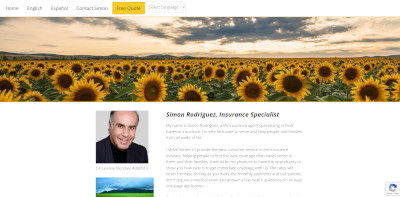 Simon contacted us in April asking about our website design service. He is a final expense insurance agent covering the Ventura county area in California.
He had a simple page created by his insurance company but he wasn't pleased with it and wanted to have his own site. The main reason he wanted to have his own site was because he wants to advertise his service to gain more clients – and the agency indicated he wasn't allowed to do advertising for the free page they gave him.
When creating the new website, we started by using the same material on his existing site. We then changed some of the information and added some pictures he provided. The website is a four page site with mobile compatibility, a basic contact form, and Google Translation services built in so the site can easily translate between English and Spanish.
Today, he has approved the site and it has now been published!
Simon's website is at helpyouandyourlovedones.com.