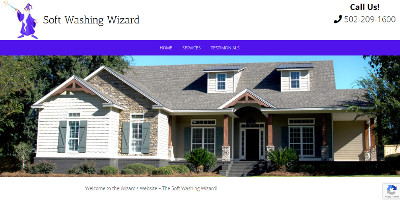 Kevin emailed us and asked us to create a small business website for him – Soft Washing Wizard.
He already had secured his domain name, but wanted to look for a web designer that was fair and inexpensive – and that is why he chose BsnTech Networks.
Kevin didn't need an extravagant website. He provided us two pages of information along with his logo and a few pictures to add to the website. Within a day, we had the website ready for his review.
Some modifications were completed – moving the contact form to the home page and replacing the Contact page with a Testimonials page.
We appreciate the business from Kevin!
The Soft Washing Wizard website is at softwashingwizard.com.