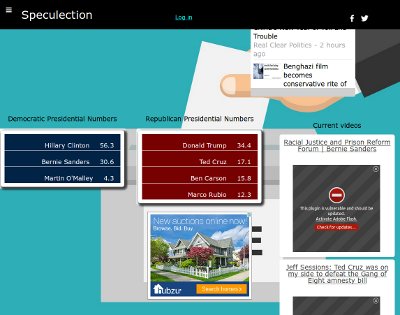 Jon, a recurring customer of BsnTech Networks, contacted us a few months back to create a new website for him, Speculection. His aim was to provide a website that provided resources for elections and allow visitors to speculate and make comments. In essence, it is a "Speculection"!
We worked with Jon over the course of the months to setup a website for him that he was happy to use. Jon provides us embed codes to another resource that he controls – which allows him to manipulate and update what information shows on the site. In essence, he just needed us to create the design of the site, setup the pull-out menu navigation, and then create the pages which contain his embed codes.
Jon continues to be a great customer for BsnTech and has contracted with us to make several websites over the past few years. He has noted that he plans on being a business consultant and will contract us for all of his customer website needs as well.
The website for Speculection is at speculection.com.