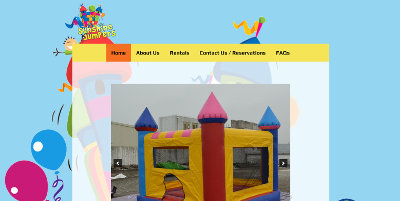 Michael, one of the owners of Sunshine Jumpers out of Port Orange, FL, contacted us a few months ago asking about website and logo design service.
His first requirement was getting his logo done – which our logo designer completed a few months back.
A few days ago, Michael contacted us and said he was ready to get started on the website and provided us the information we needed to get started.
Over the course of the past three days, he sent us material and a few requested updates/changes.
This morning, he has approved of the website and was ready for it to go live!
We appreciate the business from Michael and look forward to working with him as his business grows.
The website for Sunshine Jumpers is at sunshinejumpers.com.