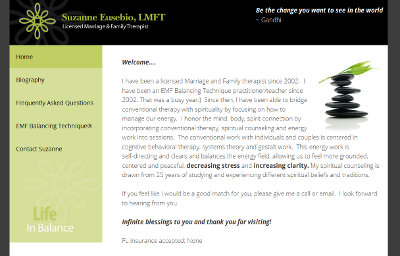 BsnTech Networks was contacted by John Eusebio to help with some website work. His wife, Suzanne, runs a marriage and family therapy service. They moved from Connecticut down to the Space Coast / Merritt Island, FL area recently.
They had a website prior and had all of the files for the website. Therefore, we started by restoring the website to our systems and registered a new domain name for them.
Unfortunately, all of the files were not contained in the ZIP file that John had sent over, so there were various parts of the website that did not work. In addition, John said it was important to have a mobile version of the site created so it was compatible with mobile devices. With the files provided for the original website, this was not possible.
We provided John and Suzanne a new, fresh website that still looked somewhat similar to the old site, but more modern – and with mobile device compatibility!
John placed his order with us yesterday (Tuesday). Today – less than one day later, the new website is already done and launched!
We will also be helping them get a Google Places listing setup as well.
We appreciate the business from John and Suzanne!
Suzanne's website is at heartenergytherapy.com.